This Matcha and Ground Cherry Battenberg Cake was a bit over the top, but it was a sort of wedding cake, so it was justified. First of all, this was actually the week one bake along for GBBO. I spaced out and forgot that florentines were actually week two.
A few days before the battenberg cake challenge was assigned my wife and I attended her cousin's zoom wedding. The following weekend the newly married couple came over to my in-laws house and we all had an outdoor socially distanced celebration of the wedding. I made this cake to bring for the celebration.
I've made a standard 2×2 battenberg in the past and I knew it wouldn't be big enough, so I went with a 3×3 checkerboard. I also went fancier than normal on the decorations for the occasion, trying my first quilted cake effect.
So How do you make a Battenberg Cake?
I'm terrible at taking in progress photos, but I did remember to snap a picture of my battenberg pan in action. If you've ever wondered how you pull this effect off, this is it..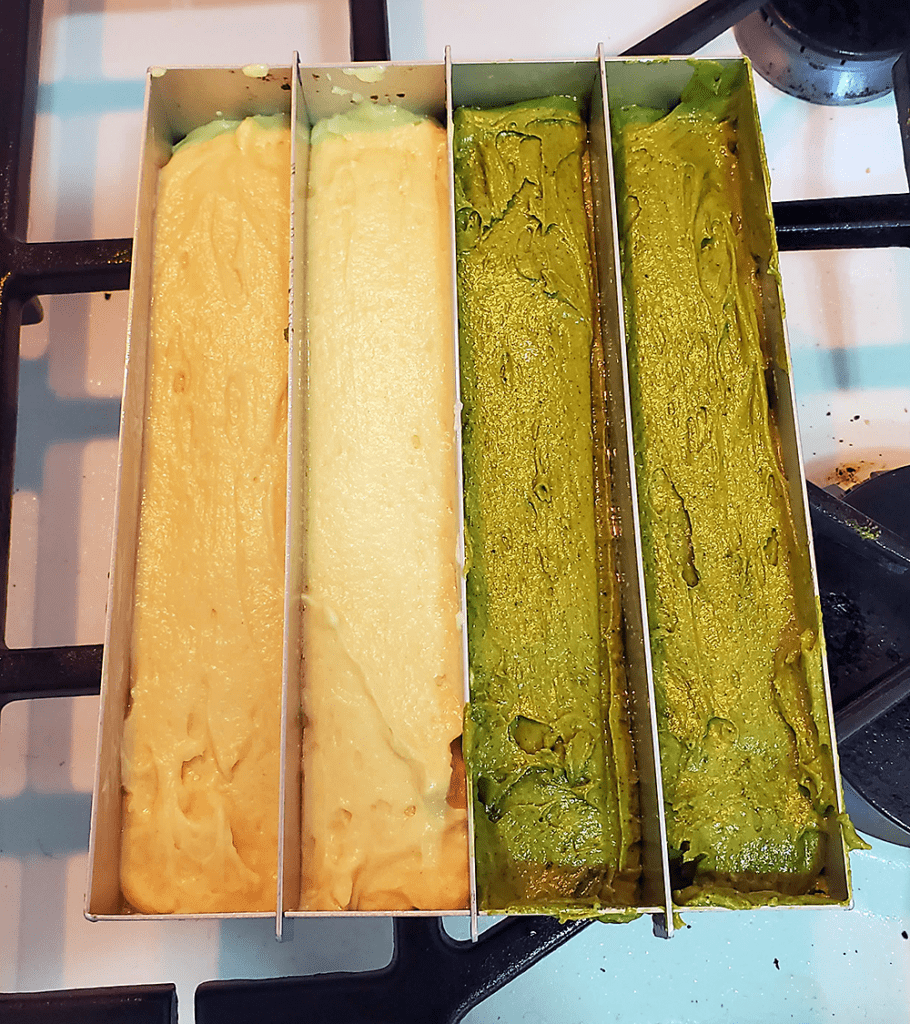 It's a pan with dividers you can add allowing you to bake multiple "bars" of cake in different colors. Since I went 3×3 I actually had to bake 3 batches (I just picked the 9 nicest bars for the cake. For the white bars, I used standard vanilla cake. For the green, I used this matcha chiffon cake recipe. No color was needed because the matcha provides a nice green color on its own.
For between the pieces of the grid, and around the outside of the assembled cake, I made a ground cherry jam. We had received a few pints of ground cherries from our farm share recently. This jam was the perfect opportunity to use them for something.
The Final Effect
Here you can see the finished effect of a cut slice..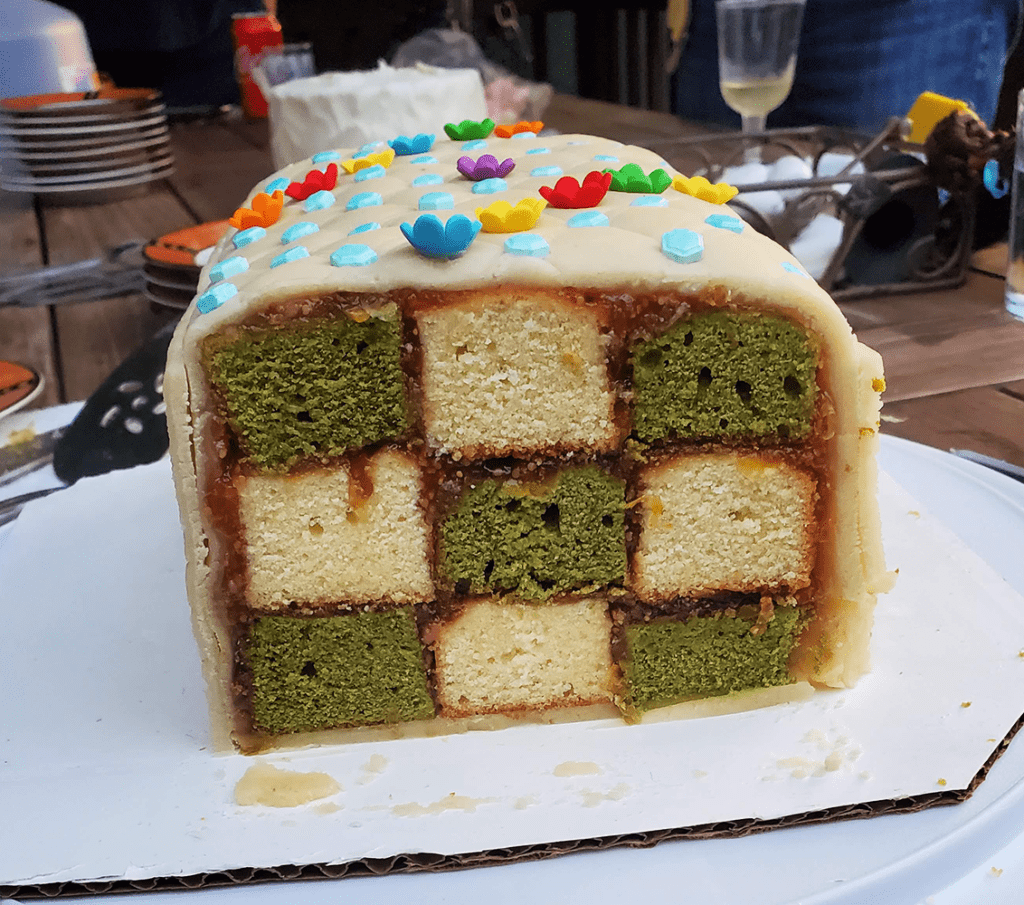 ..yeah, it's not perfect, but the grid effect is still pretty striking. I bought a spiky wheel tool and followed assorted youtube tutorials to get the quilted effect. Then I just finished with some candy jewels and flowers I had on hand. I suck at covering cakes in marzipan and it looked sloppy. To clean it up I rolled out a long flat collar which I wrapped around the already covered cake. This means the sides have 2 layers or marzipan, which if I'm honest, was too much. It did make the cake look much better though.
The cake was a huge success with the crowd. It turns out the newlyweds were fans of GBBO as well, so they knew exactly what a battenberg was and were thrilled to try one. Much cake and champagne were consumed and a good time was had by all!