My Christmas Bakes for 2021. I mostly made cookies. Five kinds to be exact. A mix of "regular" cookies..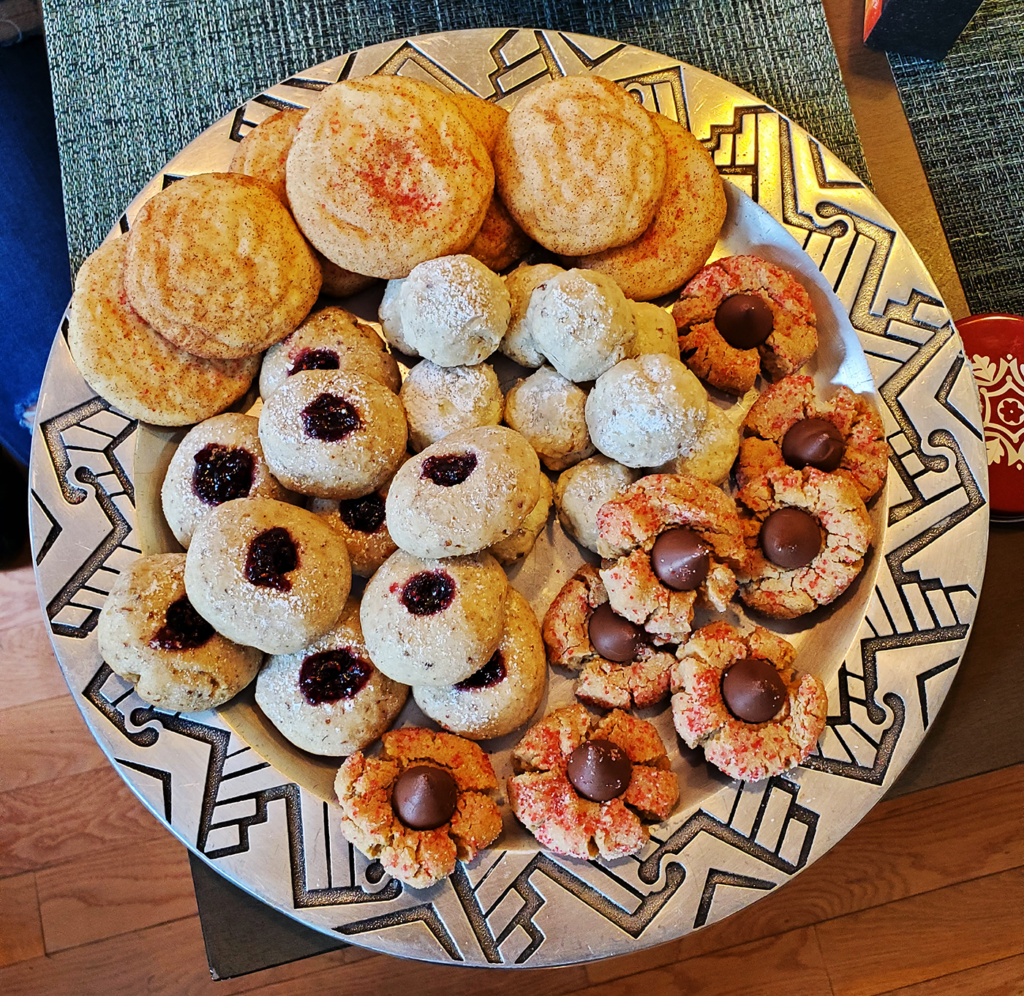 Along with some decorated sugar cookies…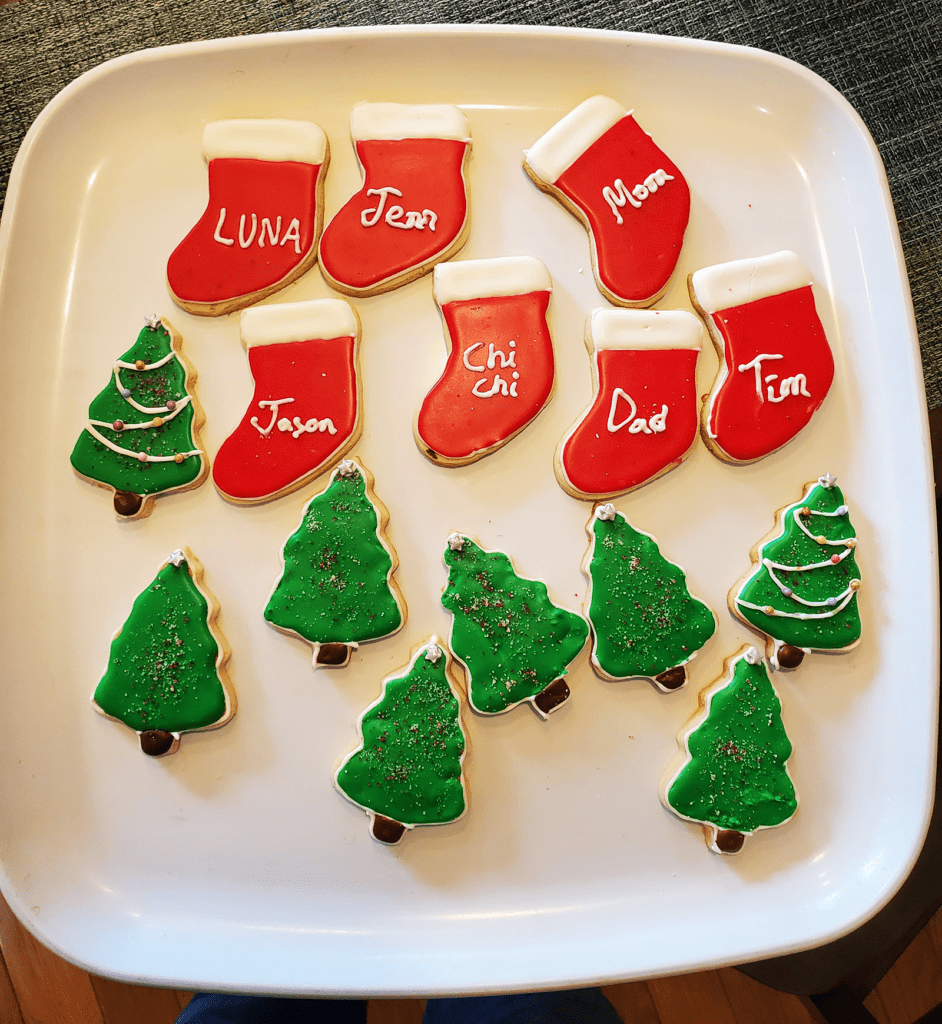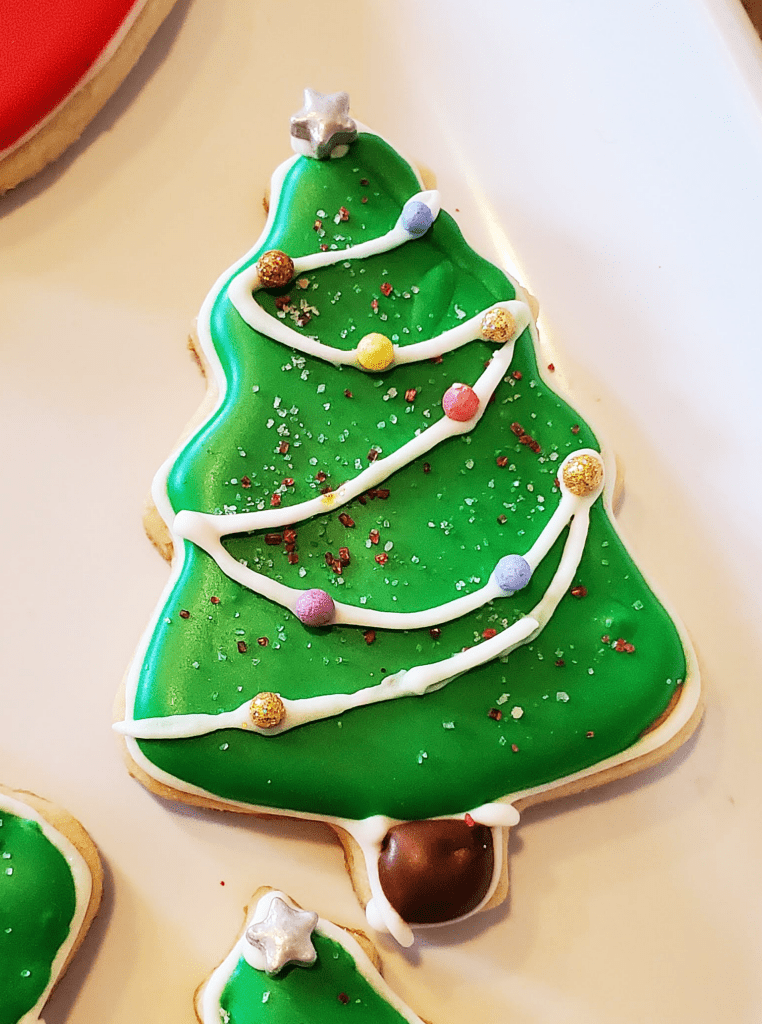 Making the Sweet Christmas Bakes
Royal icing is something I've never been particularly good at, or comfortable with, so I've been practicing. I'd love to take a live class, but the world being what it is, I decided to do an online workshop. I purchased 'Cookie 101' from Arlo's Cookies. Watching the videos really helped me understand icing consistency and decorating techniques better than I had. Now instead of being limited by technical problems, I'm mostly limited by my terrible artistic abilities. I am pretty proud of the trees and stockings I made though.
All the recipes I used for the non-sugar cookies came from Once Upon a Chef. I made Snickerdoodles (my wife's favorite), Peanut Butter Blossoms (my favorite), Nutty Jam Thumbprints, and Coconut-Lime Mexican Wedding Cookies. They were all delicious. My only regret is that I followed the suggestion to use the handle of a wooden spoon to make the impression in the thumbprint cookies instead of an actual thumbprint. This led to a small hole that only took about a 1/4 teaspoon to fill, and I feel like more jam would have made the cookies better.
The Main Course – Beef Wellington
All my Christmas bakes couldn't be cookies.. so I made a Beef Wellingting. Technically a bake, right? Of course, I cheated and used store-bought puff pastry because with all the other cooking and baking going on aint nobody got time to make puff pastry on Christmas morning. I followed Alton Brown's recipe. It came out delicious but definitely won't win any awards. I think there were 2 (maybe 3) problems. First, the tenderloin we got was probably too big. This led to the pastry being too thin and getting a bit soggy with all the juices. I also think I chopped the mushrooms too small and didn't get enough moisture out, also leading to sogginess. As you can see in the picture of the sliced wellington, the bottom pastry fell away and was a soggy mess. The top and sides stayed decently crusty though. It's definitely something I'd love to try again on another special occasion. I also repeated my Potato, Onion, and Gruyere galette as a side dish.. and totally forgot to get a single photo of it this time arround.