Great British Bake Off is back!!
I don't know if anyone has noticed, but the last 6 months have really sucked. They've sucked for the whole world. They've especially sucked for the United States, and on a personal level, they have been pretty crappy personally and professionally. Baking is basically the thing that's kept me sane. To say I was excited when BBC teased the return of bake off a few weeks ago, would be an understatement. So finally, it's back!!
To celebrate the first episode, I thought nothing would be better than hobnobs and a cup of tea while watching. Of course, no store-bought hobnobs would do, I had to bake my own.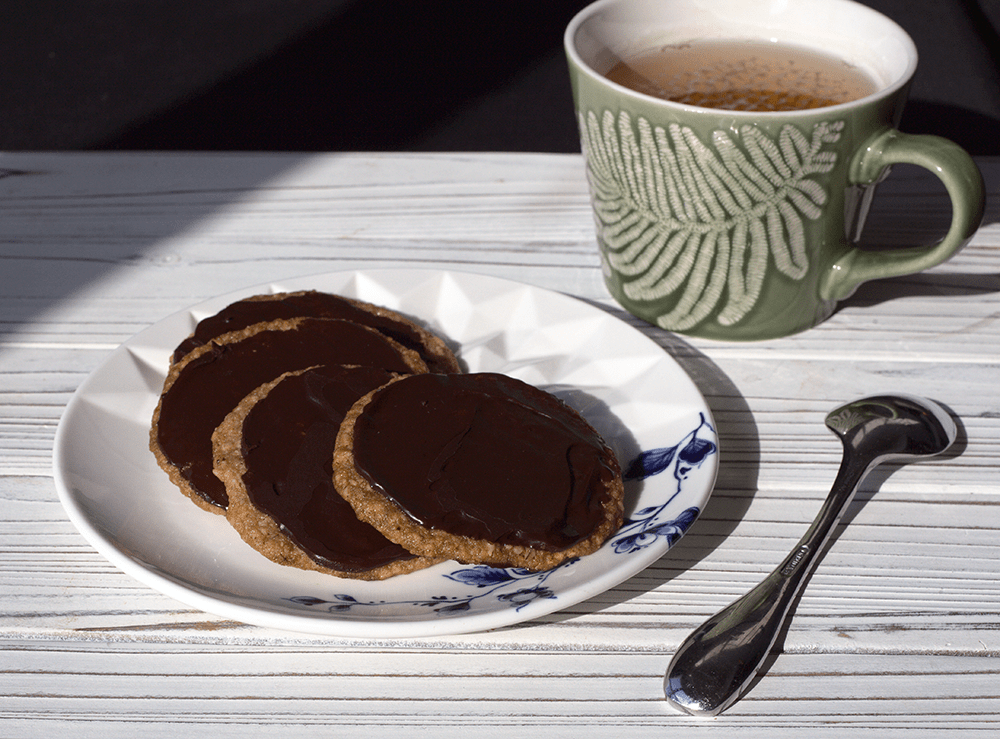 They are delicious and pretty easy to make. Considering how hard it is to find them in the States I'd say it's actually easier just to make them. The only tricky part is finding the correct oats. It took a good 4 or 5 tries until I was happy. Invariably you will find British recipes that say something like 'use Tesco oats' or, 'use your morning oats' or something else that probably works perfectly well for a Brit but leaves me thinking 'WHAT IS IT?!?!'. I forget how I finally hit on what worked for me, but it's Bob's Red Mill Scottish Oatmeal. Is it perfect? I don't think so honestly, but of the things I've got available to me, it's given the best results.
Recipe based off of Izy's at Top With Cinnamon.
Homemade Hobnobs
Homemade hobnob biscuits (cookies).
Ingredients
125

g

Unsalted Butter

80

g

Light Brown Sugar

2

tbsp

Golden Syrup / Corn syrup

80

g

Oats

(My best results have been with Bob's Red Mill Scottish Oatmeal)

4

tbsp

Wheat Germ

(or just use more oats)

100

g

Whole Wheat Flour

1/2

tsp

Baking Soda

1/2

tsp

Baking Powder

1/2

tsp

Salt
Coating (optional)
100

g

Dark Chocolate

1

tsp

Butter
Instructions
Biscuits
Preaheat oven to 350F, line 2 baking sheets with parchment.

Using the paddle on a stand mixer cream together butter and sugar until smooth and then add the golden syrup.

Mix in the oats, then the flour, then the baking soda, baking powder, and salt.

Each cookie should be about 2 teaspoons of dough to make them about the size of an actual hobnob, but I've found making larger ones works just fine as well. Whatever size you chose, press the balls of dough down so they are flatish. Leave room because they will expand when baking.

Bake for 10-12 minutes until they are golden brown. Let them cool on the sheet for a while because they are still pretty liquidy when removed from the oven. They harden as they cool, don't worry. Once cool enough transfer to a cooling rack to cool completely.
Coating – Optional (but why wouldn't you?)
Melt your chocolate and butter on the stove top, ideally in a double boiler. If you don't have one, use a glass bowl floating in a pot of water.

Use a pallete knife or something similar to spread a thin even coat of chocolate on one side of each biscuit.

For bonus points you can try to pipe the iconic crosshacth pattern on them as well, but honestly I never bother.
I'm also excited to say I've joined Little House Big Alaska's Great British Baking Show Bake-Along on Facebook. Each week I (and many others) will be re-creating either the signature, technical, or showstopper from the previous week's episode of Great British Bake Off. Of course, I'll be posting all the bakes here.