I started baking bread after being inspired by Paul Hollywood. Paul is a very old school, knead it by hand until your hands are aching kind of guy. It can be, frankly, a pain in the butt. As I read more about baking on reddit and other websites, I started seeing people talking reverently about 'FWSY' and no-knead bread. The ubiquitous 'FWSY' turns out to be shorthand for 'Flour, Water, Salt, Yeast', a book by Ken Forkish, owner of Ken's Artisan Bakery in Portland, which has become sort of the new testament of bread baking for a lot of people.
Ken's technique centers around a few concepts that differ from a lot of traditional methods. First, it uses a very small amount of yeast. Instead of spending a long time kneading the dough you only fold it just enough to mix the ingredients fully. The proofing times are very long, these are not breads you make in one day. Lastly, the loaves are cooked at high temperature, and in a dutch oven that is fully preheated.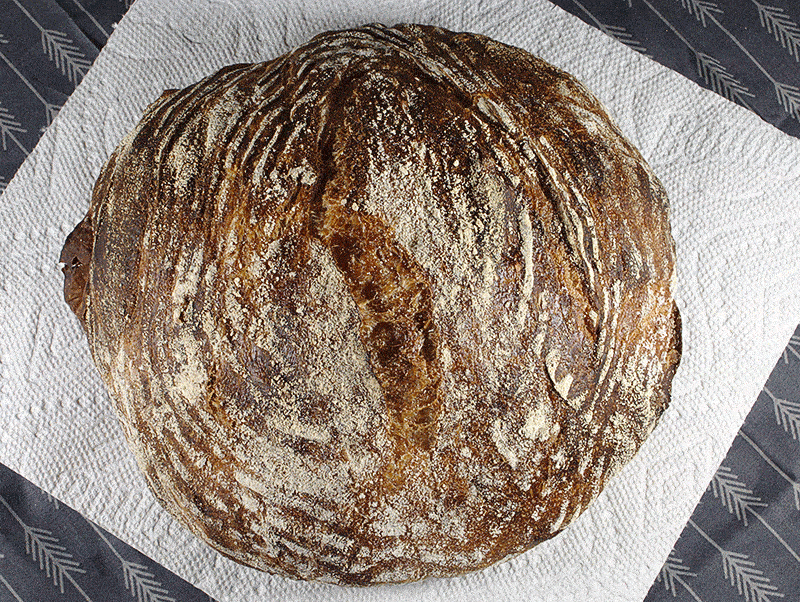 Well.. It works. It's time consuming, but really amazingly simple and easy. The results are always great, even when I manage to screw it up somehow, the worse that happens is I get a really ugly but tasty and crusty loaf.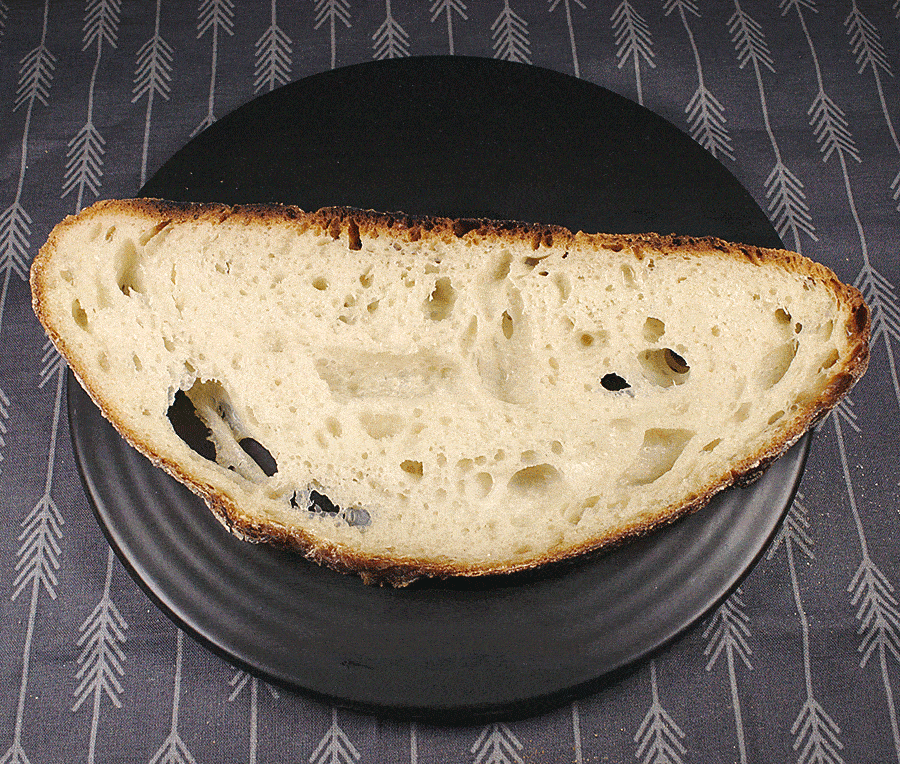 Overnight White
Ingredients
1000

g

Bread Flour

780

g

Water

Lukewarm (90-95F)

22

g

Fine Sea Salt

1/4

tsp

Yeast
Instructions
Combine the flour and the water in a big tub and mix to incorporate. Let it sit for about 30 minutes.

Sprinkle the salt and the yeast over the top (but don't let the yeast and the salt touch directly). Mix it all together with some folds initially, then with the pincer method.

Let it rest for about an hour, then fold two or three more times. Cover and let proof overnight 11-13 hours more (12-14 total). Dough should be at least 2x and up to 3x as large.

Tip the dough out onto a floured surface. Cut it into two equal parts. Form each part into a nice ball.

Dust and/or oil two proofing baskets or bowls. Place one dough ball in each basket.

Cover the bowls with a towel and proof the loaves for another hour and fifteen minutes.

45 minutes before the loaves are done proofing, preheat an oven to 475 degrees, with 2 dutch ovens inside (if you only have 1 it's ok, see note later..).

When proofing is done, carefully remove the hot dutch ovens, place a loaf in each, cover, and put them back in the oven. Let cook for 35 minutes covered.

After 35 minutes, remove the tops and cook uncovered for another 15 minutes. Very, very, very, carefully tip the loaves out of the dutch ovens and let cool for at least 20 minutes.

NOTE: If you only have 1 dutch oven, put the second loaf in the fridge while the first cooks. When the first loaf is done, let the dutch oven reheat for 5 minutes in the oven, and cook the second loaf, as above.