Pain de Savoie is a delicious bacon and cheese bread. To explain why I made this loaf, I need to work backwards. On a Costco trip for lockdown supplies, my wife and I ended up buying an absurd amount of bacon. Not super absurd, but we only really use bacon as an ingredient and never just fry up some bacon. So 5lbs of bacon for 2 people was a lot.
I've been following the quarantine content Alton Brown has been putting out and one day a new video popped up on YouTube of him making Lacquered Bacon (basically candied bacon)…
So I made a batch, managing to use up half the bacon. It was good. So good in fact that my wife didn't love the idea of having it sitting there begging for us to just snack on candied bacon. So I went looking for a bread recipe that uses bacon. I considered cornbread (which is what 90% of the hits are if you search for bacon and bread), but settled on Pain de Savoie. It checked a lot of boxes – bacon, cheese, Paul Hollywood recipe, chance to use my springform pan which I haven't used since I made cheesecake.
It's an interesting bake, it's built like a layer cake, with cheese filling between the layers. Paul calls for Comté but I used Gruyere. They are practically the same thing, but Comté is French and Gruyere Swiss. I think any semi-hard to hard cheese would work, especially another alpine cheese. He also calls for plain lardons, but given I had the candied bacon, I just diced up candied bacon.
Pain de Savoie
Paul Hollywood's Pain de Savoie, slightly adapted.
Ingredients
400

g

Bread Flour

100

g

Rye Flour

10

g

Salt

8

g

Yeast

20

ml

Olive Oil

330

ml

Cool Water

150

g

Laquered Bacon

(or any bacon you have)

200

g

Gruyere Cheese

(Paul calls for Comté)
Instructions
Add flours, salt, and yeast to the bowl of a stand mixer. Be careful not to mix the salt and yeast directly.

Add all the olive oil and 250ml of the water and start mixing. Add the rest of the water little by little, you may not need it all. You want a soft dough to form.

Kneed for a few minutes on low to medium.

Dice and add the bacon, mix until well incorporated.

Transfer the dough to an oiled bowl and let rise for 2 hours.

While the dough is rising cube or shred your cheese. (I used the large holes on my shredder to make decent sized chunks)

Turn out the dough on a floured surface and split it into 3 equal parts. Knock back the pieces and form them into balls.

Roll out one of the balls into a disk roughly the size of your pan and place it in the bottom. Scatter about half the cheese over this first layer. Roll out another dough and place it on top, scatter the rest of the cheese, then rool out the final dough and place it on top.

Let the formed "layer cake" rise again in a plastif bag, for 1 hour.

Bake at 445F for 30 minutes.

Once removed from the oven let it cool in the pan for about 10 minutes before you take it out of the pan and cool completly on a rack.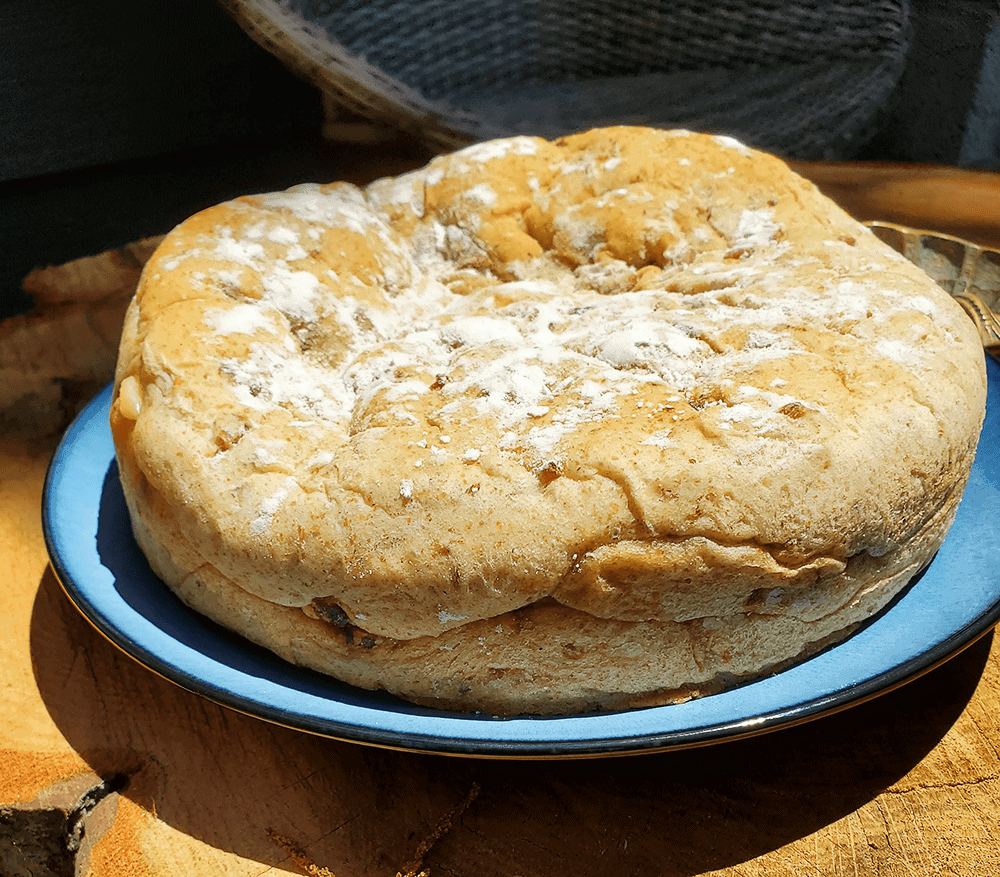 It came out tasting delicious, although not really beautiful. For one thing, it sank a bunch in the middle as it cooled, I'm not sure how I could fix that, but I suspect grating the cheese finer, and distributing it more evenly, would help some. I might also be tempted to give it an egg wash for some color next time. All of this is fine though, it's meant to be a delicious rustic bread, not a showpiece, and it was delicious!