Pecan Pie! The world might be going crazy, but Pi day is Pi day, so of course I had to bake a pie. I'm actually not normally a huge sweet pie fan, but I am a big savory pie fan. Either way, somehow I haven't posted a pie before. The closest I probably came was the chocolate chip cookie cheesecake that was pretty pie like. Anyway, it was Pi Day, and I had some pecans at home, (which ironically I had bought by accident), so I decided to make a pecan pie.
I was torn between two recipes. Mary Berry's recipe from her baking bible, and Sally's Baking Addiction 's recipe. In the end I decided to go with Mary Berry's because I liked that it used maple syrup instead of corn syrup (which, to be fair, Sally also suggests as an alternative).
First I mixed up a dough. Mary's recipe includes a short crust recipe to use, so I made that first..
Mary Berry's Rich Shortcrust Pastry
Mary Berry's shortcrust pastry crust.
Ingredients
175

g

Plain Flour

15

g

Confectioner's Sugar

75

g

Butter

Unsalted, diced

1

large

Egg Yolk

1

tbsp

Cold Water

More if needed
Instructions
Add sugar and flour to a large bowl and work in the butter until the mix resembles a breadcrumb consistency.

Add the yolk and water and mix until everything comes together as a firm dough.

Wrap in plastic and refrigerate for about 30 minutes.
Then I made the filling and put it all together…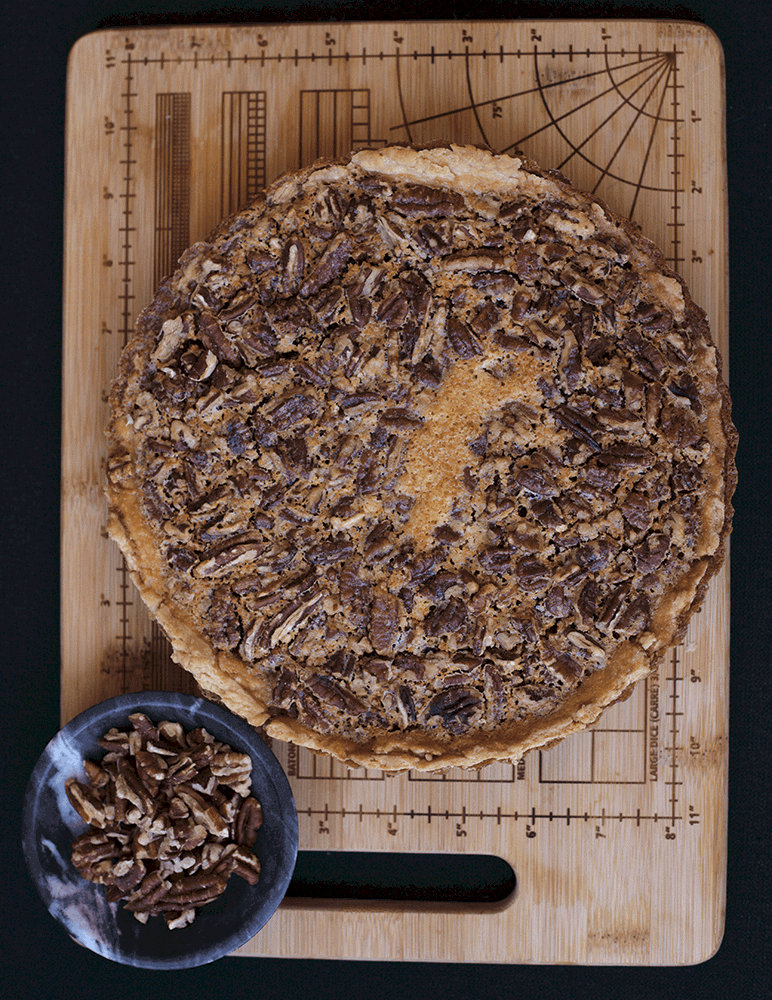 Mary Berry's Pecan Pie
Mary Berry's pecan pie recipe from her 'Baking Bible' book.
Ingredients
1

Pie Crust (from above)

(or premade if lazy I guess)

25

g

Softened Butter

175

g

Light Brown Sugar

3

large

Eggs

200

ml

Maply Syrup

1

tsp

Vanilla

150

g

Pecan halves

(I actually used chopped)
Instructions
Assuming home made dough, roll out the dough and line a tart pan. I used a nine inch with removable bottom. The removable bottom ended up being a missed blessing which I'll get to later.

Prick dough all around with a fork. Place parchment on top of the dough and fill with baking beads. Blind Bake for 15 minutes. Remove beans and parchment and bake for 5 more.

In a bowl beat the butter and sugar together. Then add eggs, maple syrup, and vanilla and beat some more.

Fill the pie crust with pecans. If you used halves you can try to arrange them arfully, I used chopped pecans so I just poured them in and distrbuted them as an even layer.

Pour in the filling. This is where the pan was an issue. Remember how you prick a bunch of holes in the dough..? I ended up with a huge mess after filling it. Next time I'd either line the pan with parchment, or be careful about not putting holes in the dough by the seam/joint between the ring and the pan bottom.

Finally, bake for 30-35 minutes, until the filling has completely set. I needed the extra 5.
The results were AMAZING. Easily one my own favorites of things I've baked. Of course it doesn't hurt that I love pecan pie anyway.