For my first fairly successfully macaron attempt, I made pistachio macarons. I made this on St. Patrick's day. I'd like to say that was on purpose, but I just had a hankering for pistachio, and I was almost done by the time it occurred to me "Hey, they're green!".
I got the Ladurée book for Christmas from my in-laws. It's an absolutely gorgeous book with amazing flavor ideas. This was my third attempt at macarons. My first was a disaster. My second was tasty, but I'm not sure they qualified as macarons. So for this attempt I did a bit more research. I watched some youtube videos that helped quite a bit. I underestimated how important the whipping the meringue and carefully folding in the flour were.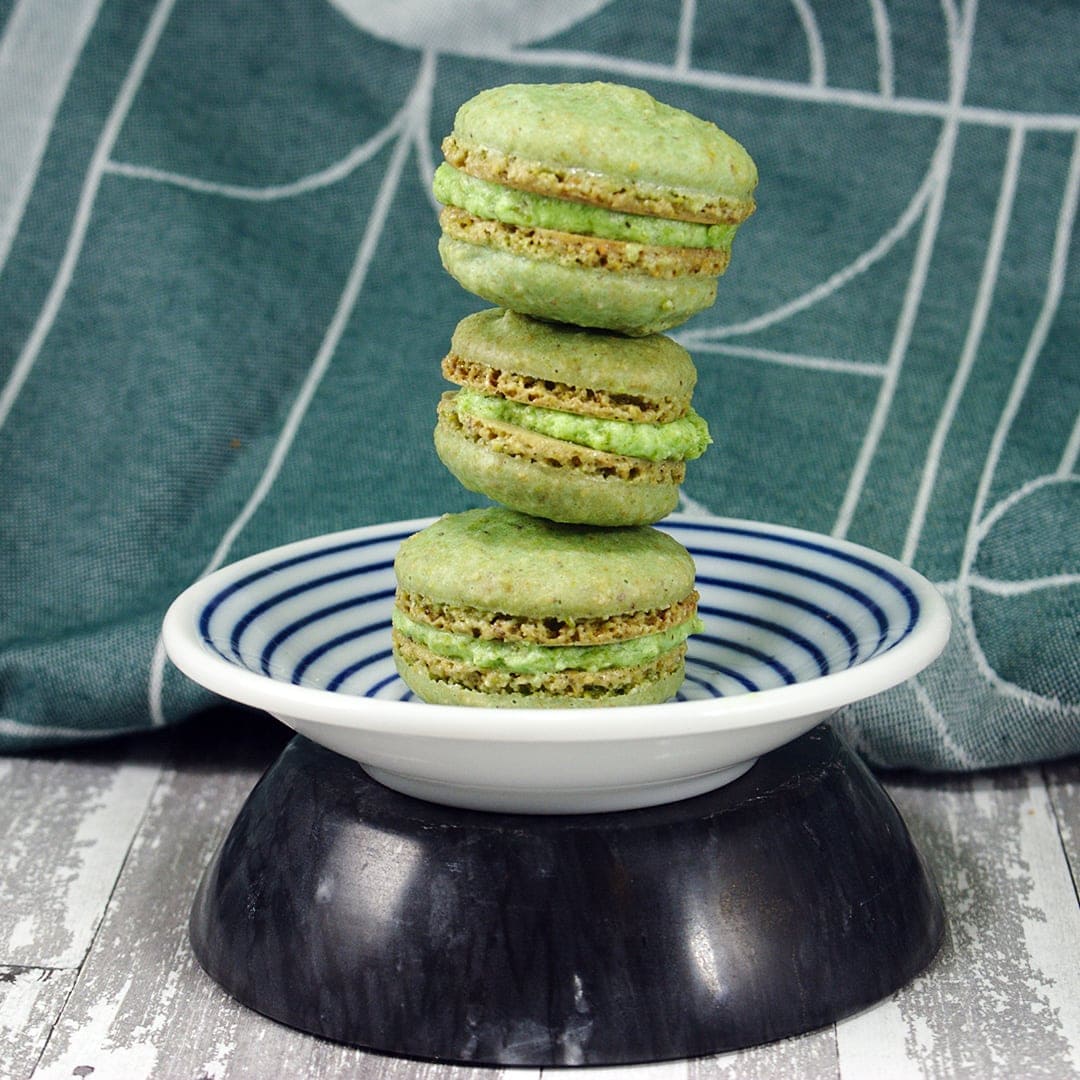 Pistachio Macarons
Ingredients
Shells
60

g

Almond Flour

40

g

Pistachio Flour

(I made my own by grinding unsalted pistachios)

100

g

Powdered Sugar

70

g

Egg White

(or 2 large)

1/4

tsp

Cream of Tartar

50

g

Caster Sugar

(usually 'Superfine' in the US)

Enough

Green Gel Food Coloring
Filling
65

g

Caster Sugar

(see above)

30

ml

water

2

Egg Yolks

55

gr

Softened Butter

3

tsp

Pistachio Paste

(I made my own)
Instructions
Shells
Sift together the flours and powdered sugar. Do this at least twice, I ended up doing it three times, twice to get it nicely combined, and once more.

Beat the egg whites until foamy. I used a stand mixer. Add the cream of tartar and continue to beat. It's important to not overbeat, but I think it's a lot easier to underbeat. You want lots of air. Add the sugar one tablespoon at a time and beat on medium-high until you get hard peaks like you were making meringue. Add a food coloring drop by drop until you get the color you want.

Sift the premixed dry ingredients into the egg whites (fourth sifting!). Gently fold it all together with a spatula. You want to mix it absolutely as little as possible to get it completely incorporated. You're trying not to deflate your meringue.

Put the mix in a pastry bag for piping out the shells.

Line 2 baking sheets, preferably with a nice silpat with macaron shapes on it, but you can also just use parchment and wing it. Pipe out about 25 rounds on each tray.

Gently-ish drop the trays a couple of times to get air bubbles out. Let the shells sit for a while. There seem to be a lot of different opinions on how long. I let them sit for a good 45 minutes. The idea is that they form a bit of a crust on the top, you should be able to touch them and not make a mark.

Bake for 18-20 minutes. It can be tricky to judge doneness. If you can pretty easily dislodge one from the sheet without it sticking or causing a mess, they are done.

Transfer to cooling racks.
Filling
In a small saucepan combine water and sugar over medium heat. Let the sugar dissolve and then bring to a boil. If you have a candy thermometer you want the syrup to hit 250F. If you don't.. wing it.

In a mixer beat the 2 egg yolks for 2 minutes. Set mixer to low and pour in the hot syrup (very carefully).

Increase the speed to medium/high and beat while it all cools down. It should end up as a fairly white and smooth mixture.

Add the butter 1 tbsp at a time, then add the pistachio paste and some food coloring to get the color you want.

Continue beating until it is a smooth mixture. Transfer to piping bag.
Construction
Now that you have shells and a bag of filling you can put it all together. Being an amateur macaron maker, I did not have 50 identical shells. Not even close. So the first step was to enlist my wife for help matching shells that were the closest in size together. We made a bit of an assembly line. She would find a good matching pair, and I would pipe some filling on one, sandwich the other together, and set aside. In the end we had probably 20 pretty decent macarons, and five ugly ducklings that we just consumed immediately.

Once finished, the macarons can survive pretty well for about 5 days in a sealed Tupperware in the fridge. You can also freeze them for months, but I'm not sure why you would want to make macarons and not eat them!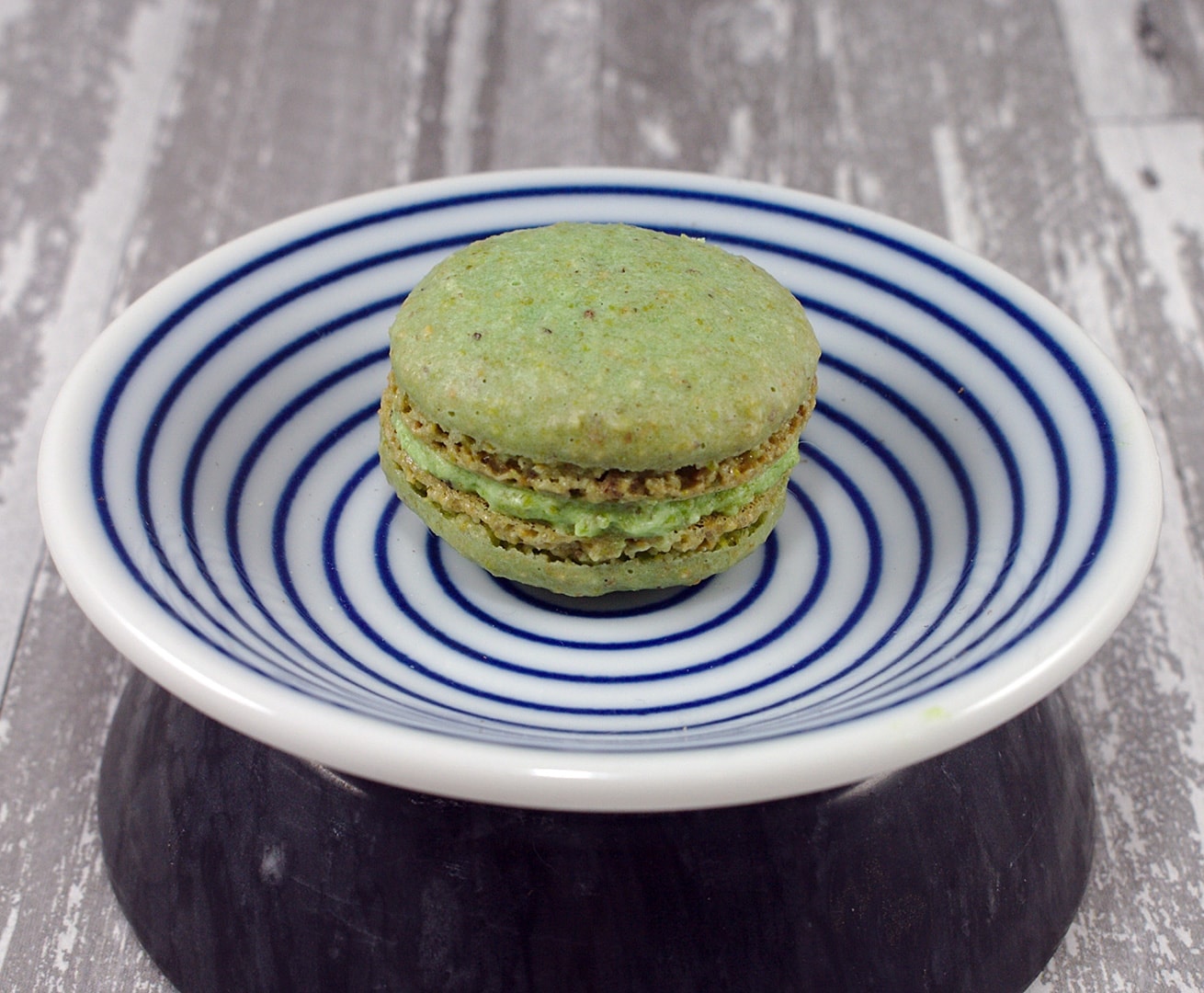 They came out pretty nice. They definitely weren't perfect by any means, but after only three tries I got decent results, which I think is pretty good. I'll definitely be trying again, the Ladurée book is beautiful and has dozens of interesting flavor variations.