Strawberry rhubarb cheesecake for Father's Day! My in-laws, and especially my father-in-law, are big fans of cheesecake, so it was the natural choice for Father's Day. The big question was the flavor. That ended up being a no-brainer as well. The week of father's day we got both rhubarb and strawberries in our CSA share, so I knew I had to use them. Rather than try to get super fancy and flavor the actual cheesecake, I decided to go more traditional and put a layer of compote on top.
I made (way more than I needed) compote following this recipe from Laylita's Recipes. It's basically equal parts strawberries and rhubarb, with some sugar and water and a bit of lemon juice, that you cook down for a while. I ended up adding a small amount of cornstarch because it wasn't getting as thick as I wanted naturally. I wanted to make sure it would stand as a layer on top of the cheesecake and not make a runny mess. I want strawberry rhubarb cheesecake, not strawberry rhubarb soup.
With the compote ready I moved on to the cheesecake. I have tried all of, no-bake, water bath, and just plain baked before, and I like just plain baked the best. I'm sure you can make great cheesecake all these ways, but I've had bad luck with the others.
My go-to recipe (after my previous mixed results) is Sugar Spun Run's "The Best Cheesecake Recipe". So far at least in my experience, it really is the best cheesecake recipe.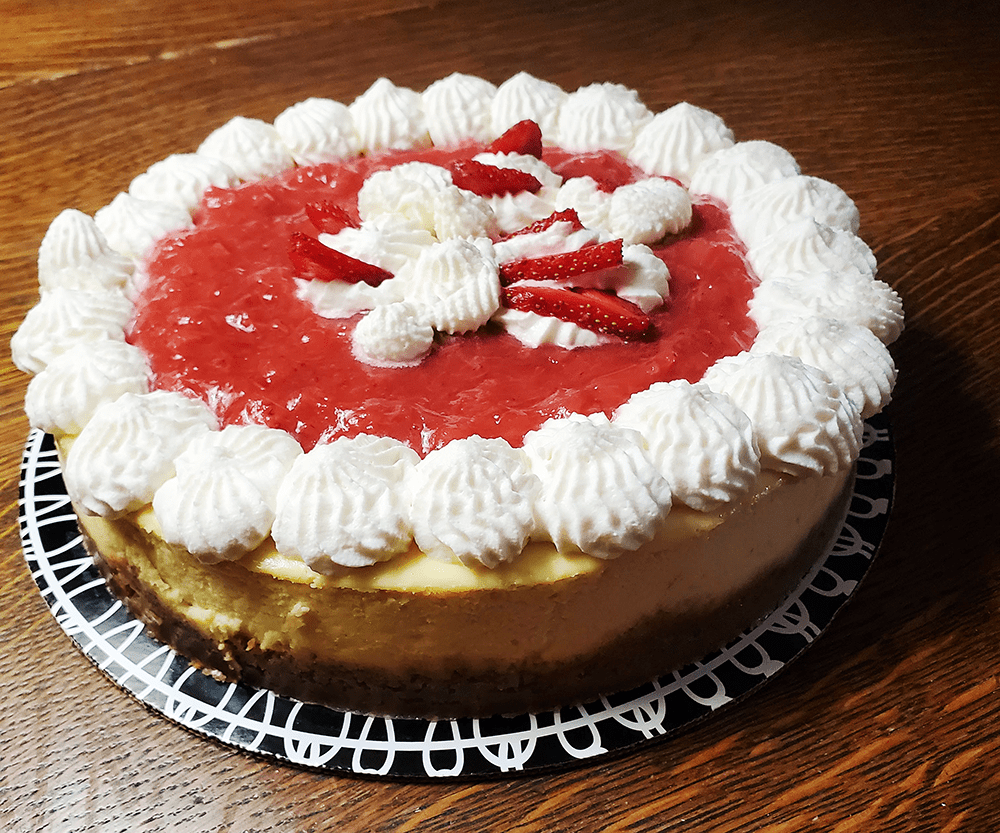 Putting it Together
To put it all together I made some fresh whipped cream and piped a border. I then poured in some compote and spread it out. Between the whipped cream border and the thickness of the compote, I had zero running issues. To top it off I made a (barely artistic) center flourish with some more whipped cream and slices of strawberry.