I finally made a unicorn cake! If you spend any time reading baking blogs (which you obviously do), or watching baking shows, you know it's been a huge trend for a while now. Well, it was time to make a birthday cake for my unicorn loving wife, so, the choice was clear!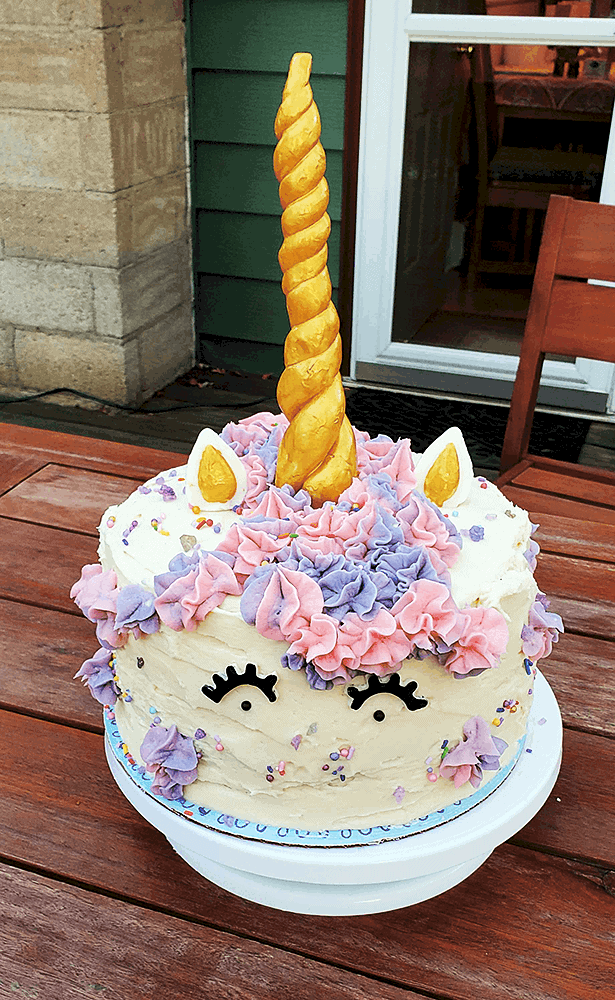 I didn't tell my wife what I was making, but I asked for flavor preferences. She wanted chocolate cake and raspberry so I decided on layers of chocolate sponge with raspberry between the layers. I also decided on buttercream, not fondant, to cover the cake. I may or may not regret this. Fondant sucks, but I suck with buttercream and there ended up being SO much to cover the cake decently that it was super heavy.
The cake and the Filling
For the filling (only) I used the recipe from Life Love and Sugar's Raspberry Chocolate Layer cake..
Raspberry Cake Filling
From https://www.lifeloveandsugar.com
Ingredients
1/4

cup

Sugar

1

tbsp

Cornstarch

2

tsp

Water

2

cups

Raspberries

I used frozen ones (that I thawed)
Instructions
Add everything but the berries to a saucepan and heat until it's all well combined

Add the raspberries, stir around a bit to get them well coated.

Once the berries get soft and are creating juice, use a spatula to mash them up well.

Cook about 5 more minutes to allow the mixture the thicken up a bit.
For the sponge, I followed the King Arthur Simple and Rich Chocolate Cake recipe with one small change, well, 2 really. 1) I multiplied everything by 1.5 since I wanted 3 layers and this recipe only made 2. 2) I added some real melted chocolate instead of just cocoa powder. It's something I picked up from Great British Bake-Off where Paul Hollywood always says never use just cocoa powder and no real chocolate. For the chocolate to melt, I don't buy a candy bar, and I don't use that gross baker's stuff. Jacques Torres baking chocolate is my go-to.
Once I had filling and layers of cake, I needed buttercream. I like the recipes/instructions from Dulcia Bakery because she explains how to vary the consistency. I made a batch of medium and a batch of stiff. The medium was used for the constructions and covering. I laid a bead around the outside edge of each layer to retain the raspberry filling. Then I used it to do a crumb coat, and after about 20 minutes in the fridge, used the rest to do a smooth coat. The thick consistency was used to do the decorations, which I'll talk about next.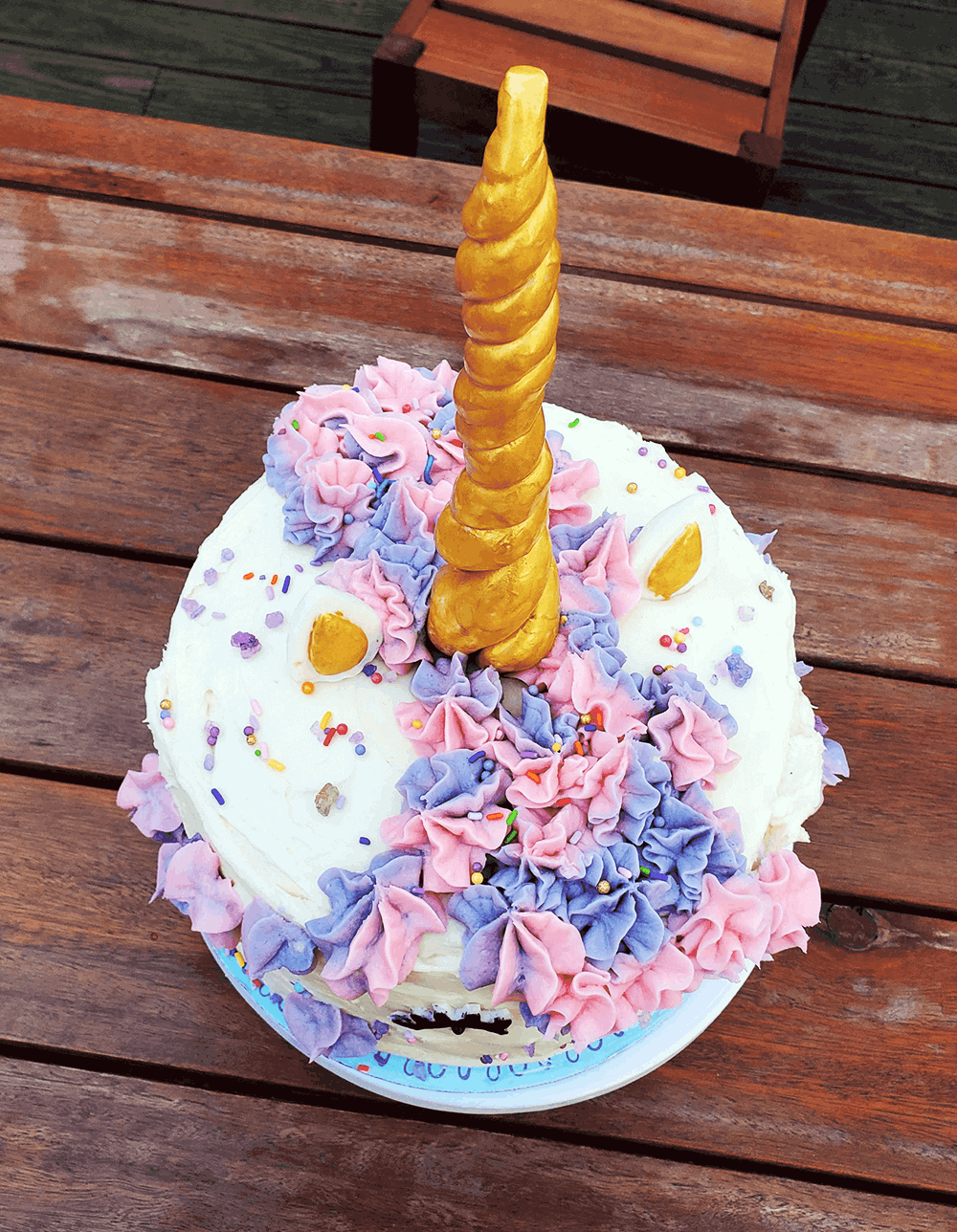 The Decorations
Obviously the wow factor on a unicorn cake is the horn first and foremost, along with the ears and eyes/eyelashes. I bought this mold kit on Amazon that has a horn mold, and ear mold, and an eyelash mold. The horn mold ended up being way to small, but I used the ear and eyelash molds to pretty good effect. All I needed to do was soften up some fondant by rolling it in my hands, then put it in the molds and let it set.
For the horn, I took two pieces of fondant and rolled them out into tapered carrot shapes. Then I took a skewer and just twisted them together around it. I then painted the whole thing gold (of course!) with some gold luster dust. I also painted the inside of the ear with gold. The eyelashes I painted black.
The final element was the mane. I took my stiff buttercream and split it in half. One half I colored pink, the other purple. To achieve the multi color effect I followed a tip I saw in some tutorial (can't remember which :/). The tip was, lay out a long strip of cling film, and with a spatula make two side by side lines of buttercream on it with the two colors. Then you twist this up into a tube, and squeeze it out into your piping bag. It worked like a charm. I've tried the more traditional, load the bag with two colors side by side approach before, and it never worked as well.
Finishing Touches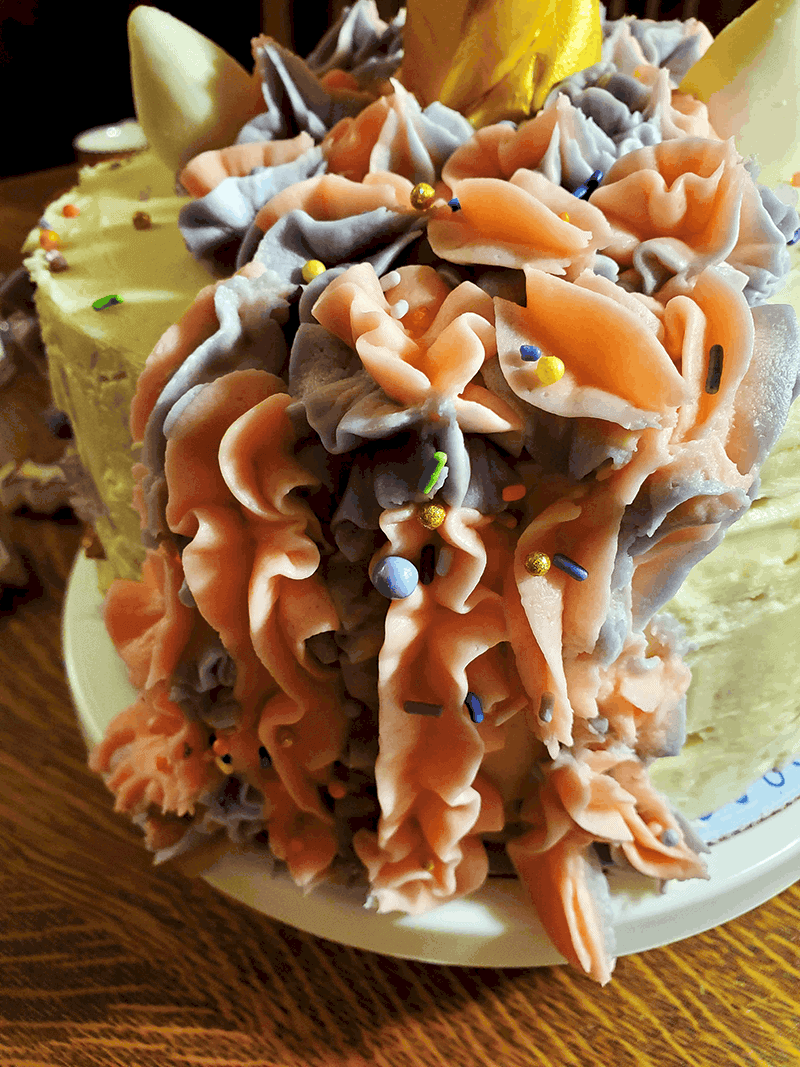 The very final touch was some artisanal sprinkles (who knew?!) that I got from Delta Sprinkles on etsy. It all came together beautifully. If I had it to do over I'd probably make two changes. First, I used 9″ rounds because that's what I had on hand. It was too big, I would use 8″ or maybe even 6″ or 7″ next time. Second, I was too heavy handed on the buttercream, making the cake super sweet. I attribute t his mostly to me being bad at getting a nice smooth finish and needing to keep slathering on more buttercream to fix mistakes.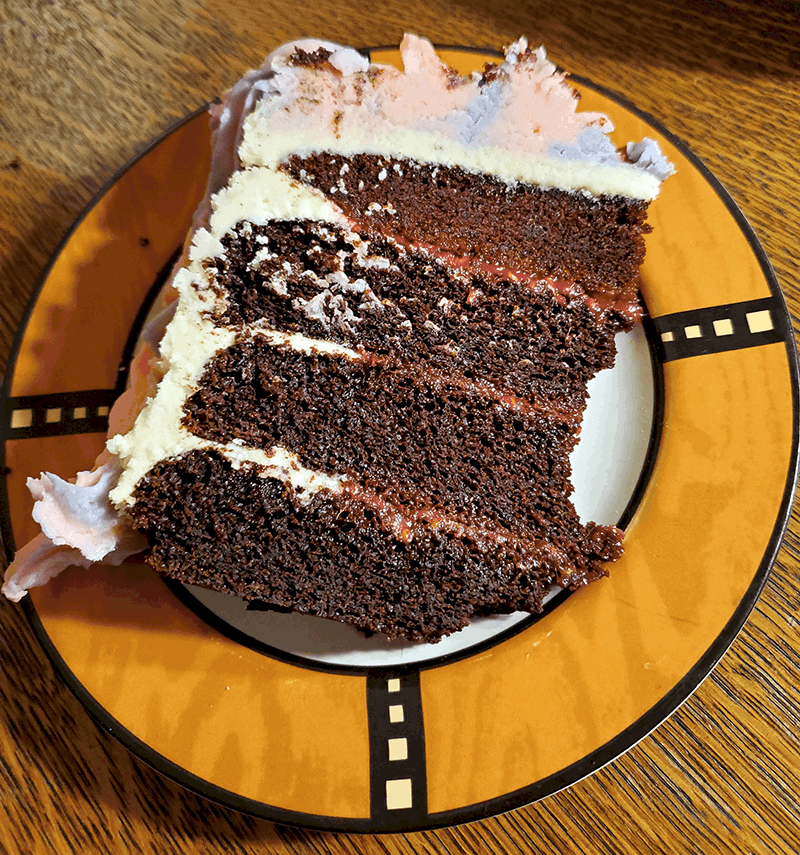 All in all, it ended up delicious and beautiful anyway, and my wife was thrilled and very surprised when I revealed it.