Everyone loves buttermilk biscuits. When you churn your own butter at home…
..you end up with lots of buttermilk. What better way to use it than buttermilk biscuits?! Well, possibly buttermilk scones, but today I made the biscuits.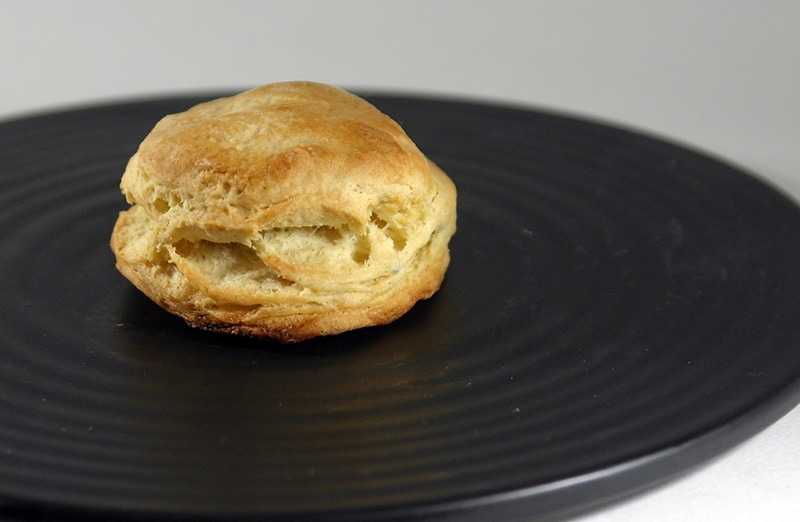 Buttermilk Biscuits
Ingredients
2

cups

all-purpose flour

1

tbsp

baking powder

1/4

tea

baking soda

2

tea

sugar

1

tea

salt

6

tbsp

cold butter

3/4

cup

cold buttermilk

(plus some for brushing)
Instructions
Preheat oven to 450°F. Line baking sheet with parchment.

Mix the flour, baking powder, baking soda, sugar, and salt until well combined. Add the in the cubed cold butter until you have small pea sized pieces of butter. You can use either a stand mixer or a hand mixer. You want a standard pea-ey/sandy biscuit/crust consistency. Then pour the cold buttermilk into the mixture and work it together until it forms a thick dough.

Put the dough on a floured surface and stretch/pat it out until it is about 1/2 inch thick. Start cutting out your biscuits (use a cutter ~2.5in). After you cut out as many as you can, reform a ball with the remains, pat it out again, and cut more. You should end up with 12-16 biscuits depending on exact cutter size.

Arrange the biscuits on the baking sheet. Brush the top of each biscuit with a little bit of buttermilk.

Bake at 450°F for 15-17 minutes until golden brown.
Put it all together and you get..